Major complex/technical upgrade accomplished yesterday…….I replaced the passenger side mirror:
It actually did end up taking longer than I expected (shocker) because I didn't realize I would have to take the inner door panel off to access the connector for the mirror. I'm pretty happy with the quality on the new mirror though. I didn't replace the driver side but will do that too eventually.
I also discovered that I did have a door speaker on the passenger side but the wiring had broken off right at the speaker. I guess I misunderstood the guy who installed my new head unit a couple months back.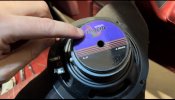 If I had known earlier that yesterday was going to be a warm day, I would have taken it off from work and tried to get the steering shaft assembly installed. Missed opportunity.
Still haven't found a good/affordable option for having rear end gears installed. All of the shops I've called either don't do gears or have quoted me over $1,200. Trying to determine what else I can make progress on while the weather is mostly cold.