I drove 14 hrs to Minneapolis to get this one. It was a long haul, but looks to be pretty solid. It's complete, for the most part. Originally a 2.3 turbo, it has been swapped to an early 302. Yes, it's another 79 pace car. I don't know why I love these things. They're a pain as far as sourcing parts. This one did come with some extras.
The car is still sitting on the trailer in front of my garage. I had to hop a boat for a few days but should be back Monday evening. The front springs are completely worn out. It took us an hour to get it loaded without destroying the front air dam, which is difficult to remove and rare as hens' teeth. I think it's even sitting lower after the trip lol! It came with a new set of springs, so I'm going to try and replace those before unloading it. Then, I'll have to hook up the steering shaft and get it inside. At that point, I can see about getting her running again and see what the deal is with the brakes. It's a 4 speed car. I'm not sure if it has the old fox srod 4 speed or maybe I'll get lucky and someone installed a 4 speed toploader. I can't really get under it or inside because of how low it's sitting and all the parts stuffed inside.
In the deal, I also got a brand new set of SVE TRX wheels (copies of the original metric wheels but in standard 16" size), an 8.8 rear (not sure on specs), offroad h-pipe, later LX stainless exhaust pipes, new upper and lower tubular control arms of some sort, and a few other things I can't remember.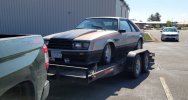 Last edited: